'The Walking Dead' Spoilers: Rick Grimes Mindblowing Sendoff on Andrew Lincoln's Last Episode
The Walking Dead spoilers with Rick Grimes (Andrew Lincoln) predict torture for fans of AMC's TWD. With its zombie pits and ridiculous bucking horses, the show previewed the tragic fate of its lead character last week.  In the episode "The Obliged", after barely surviving the zombie pit, Rick Grimes and Daryl Dixon (Norman Reedus) prepare to head home. They get to the motorcycle, where they spot a white horse that's escaped the bridge camp. On its heels is a herd of zombies creeping towards the bridge that connects the communities.
The Walking Dead Spoilers: Saying Goodbye to Rick Grimes and Andrew Lincoln
As usual, Rick Grimes decides to be the hero, and tells Daryl he has to save the bridge.  The bridge represents everything they've struggling to protect, and Rick's not letting it go. Rick and Daryl part ways after their emotional reconciliation, and the audience is left with a sad and ominous feeling that this is the end of their unstoppable bromance.
AMC loves Rick Grimes and horses
Just like he's done before, Rick leads the herd of walkers down a path that ultimately puts his life in danger. His horse ends up panicking and throwing him. He is instantly impaled on rebar and can not move. In horrible pain and bleeding out, Rick has no one to help him as not one, but two hungry zombie herds move in for the kill. Rick goes unconscious, and the audience is left with the most jarring cliffhanger The Walking Dead has ever produced!
The Walking Dead Spoilers show there is a significant parallel between this scene and the horse scene presented in Season one, but this time Rick has no foreseeable way out. There is literally NO WAY he can survive. So why does The Walking Dead execs and writers keep messing with the fans? Because it makes for good TV! Obviously.
In an attempt to throw everyone, The Walking Dead shows upcoming scenes of Rick riding his horse again. Huh? This is after he has been impaled by rebar.  Watchers see him leading the zombie crew across the bridge — just as he promised he would. Desperately holding on – tighter than Rick and Daryl grasping the wall cables of a zombie hole – diehard fans are clinging to any evidence that Rick will survive. This is, in spite of the fact that The Walking Dead has alerted its viewers – MANY TIMES – that this next episode will definitely be Rick's last.
The Walking Dead Spoilers: Rick's homecoming
The AMC show is setting up a very depressing ending for a lead character fans that have revered for almost a decade. Their hero has survived the un-survivable before, so it seems like anything is possible. On the other hand, it also seems fitting that if Rick Grimes does die, this will be the way it goes down – with the white horse (Christian symbolism for death and a sure nod to the horse in Season 1), with the lurking herd of zombies (of course…), and with similar hallucinations that other characters have experienced just before they die and turn.
Hallucinations, The Walking Dead, and Rick Grimes
The Walking Dead Spoilers sources confirm Rick will definitely be hallucinating and having flashbacks. This is a typical sendoff for TWD favorites.  If you remember in Season 5, E9, (which is the reverse of Rick's final episode Season 9, Episode 5 – so not coincidental!) ) In the episode, "What Happened and What's Going On", Sasha's older brother Tyreese (Chad Coleman was bit by a zombie. He was trying to help Noah search thru his old home when Noah's zombified brother takes a bit of his arm.
Unfortunately, the group was unable to save Tyreese. He starts to die and hallucinates those who had died before him including Bob Stookey (Lawrence Gilliard Jr.), Beth Greene (Emily Rebecca Kinney), Lizzie and Mika Samuels (Brighton Sharbino and Kyla Kenedy) who comforted him. Then, he also has crazy visions of the Governor/Philip Blake (David Morrissey) and Martin (Chris Coy) who were, of course, adversarial and dark.
AMC TWD Spoilers: More Characters Return
The Walking Dead spoilers hint Rick's hallucinations will also be confrontational at times – especially if execs are talking about bringing back characters like Shane Walsh (Jon Bernthal). He'll definitely have a gripe (or two) to pick with dying Rick concerning their shared loved interest (his deceased wife) Lori Grimes (Sarah Wayne Callies).  Maybe they'll also argue over Rick's daughter, Judith Grimes (Chloe & Sophia Garcia-Frizzi ). Who's daughter is she, anyway?  Judith's paternity is still uncertain. Rick thinks Shane is the biological father, but math shows Judith could possibly be his child. Now, one of the candidates is dead and the other is about to die… (Oh…sorry. Too soon? Ok, forget the jokes.)
Anyway, the tension between Shane and Rick is always palpable… Viewers will love seeing this dynamic duo rock the screens once more.
TWD Ghosts of the past
Previous TWD spoilers confirmed Shane, Sasha Williams (Sonequa Martin-Green), and Hershel Greene (Scott Wilson) will make appearances on the show to get Rick back on his feet. That's one hell of a sendoff!
This episode will be overwhelming anyway, but seeing Hershel again and knowing that the actor recently passed away (Oct. 6, one day before the Season 9 premiere, due to leukemia) will send fans over the emotional breakdown-edge.
The Walking Dead spoilers have shown scenes from the Season 9, Episode 5 promo showed Rick's boots splattered in blood…  This disturbing, heartbreaking preview hints that it's Rick's "walking dead" body trying to reach his family and crew. However, new spoilers hint that TWD may be teasing and could leave his exit open ended rather than final, dead as a doornail. Think, capsizing depression — deaths of Glenn Rhee (Steven Yeun) and Abraham Ford (Michael Cudlitz) type of sadness.  And, to make matters worse, Andrew Lincoln leaves TWD fans with this…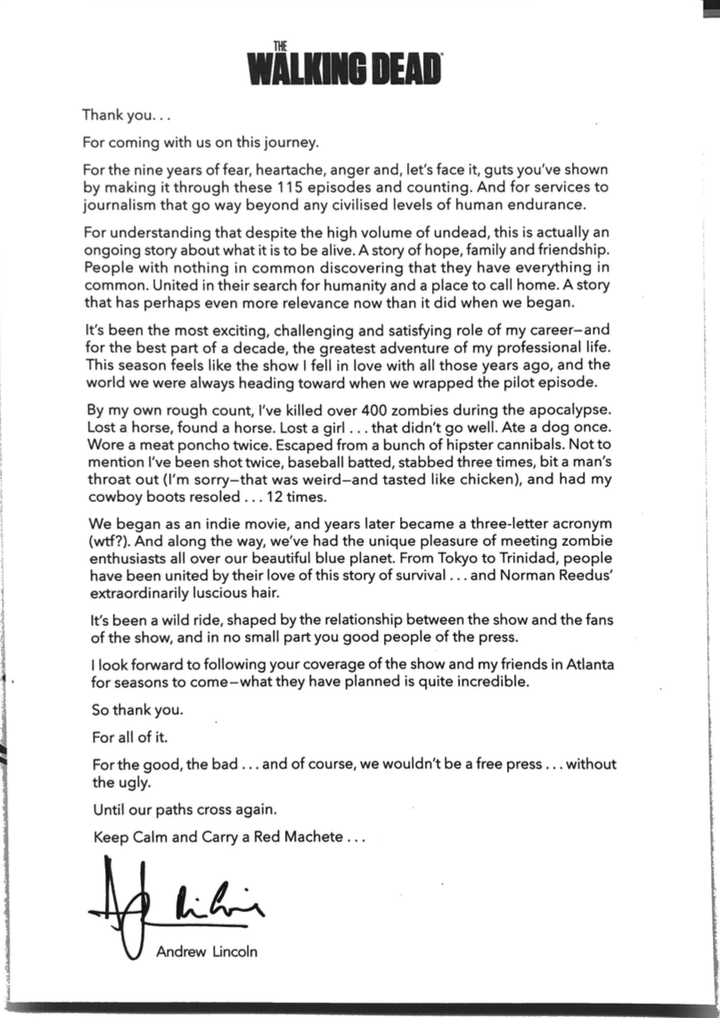 (Sigh). Rick/Andrew Lincoln will be sorely missed. What he brought to the screen made The Walking Dead so much more than a gory, zombie show. It's so hard to envision the show without him.  His exit will obviously have rippling repercussions for all surviving characters. They will be trying to cope with his exit, while dealing with zombies, Negan (Jeffrey Dean Morgan), and a new, freakish threat – The Whisperers.
Despite Rick's exit, there will be a lot to look forward to… Spoiler sources say Michael Cudlitz (Abraham) will be directing the season's 7th episode. Good to have him back in any capacity.  Also, Daryl Dixon will take on a larger role on the show. Could he be the new Rick Grimes' of the crew? The Walking Dead is FINALLY good again!
Come back to Soap Dirt and get more of The Walking Dead spoilers, news and leaks.